Around since the early 19th century, this 'small cart on wheels used to carry things'* currently appears to be enjoying an upsurge in interest. This trolley interest is particularly noted in the catering and hospitality sectors.
But why should we be surprised when you consider how adaptable trolleys are?
Café, restaurant, hotel or boardroom, whatever the environment, the hostess or kitchen trolley, provides additional storage, merchandising, serving or clearing space. Who needs a trusty steed when you can rely on your sturdy trolley? It will help you navigate both kitchen and front of house areas with ease. It's also perfect for transferring food, crockery, condiments or cutlery quickly, efficiently and safely.
Dropleaf, tiered, with or without stacker boxes and on quality casters, catering trolleys provide optimum mobility. It will take the load whilst significantly reducing table service and clear down time in any busy catering environment. Contemporary or classic in design and available in a range of materials, sizes and finishes.
A trolley for all occasions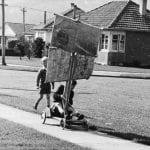 There really is a trolley to suit any environment and budget. They can even multi-task as mobile display stands! Here's just one example of 'a small cart on wheels used to carry things'… to see more, take a look at our range of catering, merchandising and display trolleys.
Stylish, robust and crafted in oak, we dare you not to be impressed. Our carts are quality engineered and built to last.
If you're not convinced about the merits of these fine chariots (as the French call them), you must be off your trolley (sorry, couldn't resist)!
*Collins Dictionary