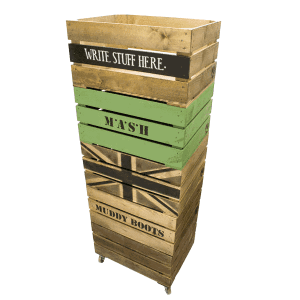 They're not just any old crates
Wooden crates, or apple crates, have been around as long as there has been commerce. Storage, transportation or an upturned seat they've been used for a multitude of tasks over the centuries.
Now the humble wooden crate has evolved!
Our crates are incredibly versatile from colour and sizing to handling and customisation. You may never have thought it before but our crates aren't just any old crates, they're a whole world of styles and functions.
Benefits of a Wooden Crate
There are many benefits to wooden crates versus some less sustainable options here are just a few:
Light weight – easily moved around
Sturdy design – great load bearing capacity
A wide range of finishing options from colour to stencil – match your style and brand
Great selection of sizes – select what's just right for your needs
Massive range of functions – incredible versatility
An Encyclopedia of functions & options
Our crates have evolved! They are so versatile there is no one function that can define them. From basic storage and display to catering and seating they are the definition of versatile.
A Size for all Occasions
Our standard crates come in a range of sizes. The standard variations are length and height.
A Finish for all Tastes
Rustic or painted? One tone or two? From our standard rustic crates to our famous ColourBurst crates you shouldn't be wanting for colours!

Customisation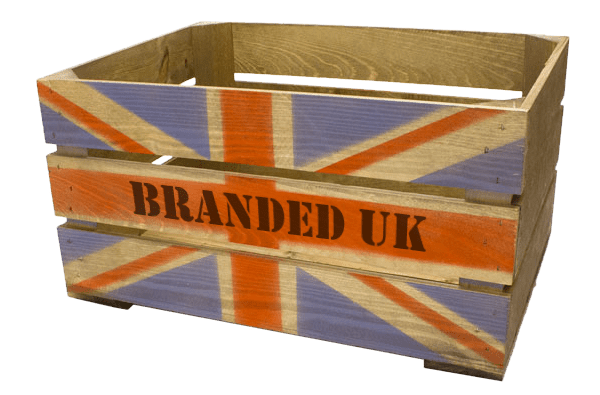 Our wooden crate is easily customised. We manufacture stencils on our lasers to customise your crates. This means that not only can you have text but also imagery and brand logos.
When it comes to both display and storage functions this customisation can prove both incredibly useful and invaluable.
To Stack or not to Stack
Our crates comfortably stack on top of each other however if you are looking to stack crates 3 or more high we always recommend selecting the Stability Option. This option includes additional strips to the underside of the crates which of greater stability when stacking high.
Drop Front for Easy Access Storage or Display
One of our more popular variations are our Drop Front Crates. These can be used as single counter top displays or stacked up high. They're also very popular in the home.
They're simply our standard wooden wooden crate with the top two panels removed along its length. Merchandisers, desk tidies and even dog beds. Adding lids to them makes them very attractive bedside tables – their versatility knows no bounds.
Lids
As mentioned above a lid not only tidies contents away but also offer additional functionality in the form of a table. Coffee tables, bedside or desk side tables – they help to maximise efficient use of space.
Blackboards
Labelling contents and displays can be that much easier with our black board crates. This allows for easy labelling and relabelling – simply chalk up your label and then wipe it off.
Cushion Seats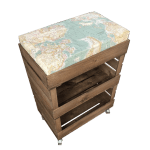 Who knew crates could be so versatile. Our cushion seat crates are incredibly popular not least because they also offer additional storage as well as looking very attractive.
Working with a local company hand making the seats we have a great range of fabric designs to choose from. The flexibility of construction allows for a varied permutation of storage and display options.
Hospitality & Catering Crates

The rustic look is very appealing in the hospitality and catering sector and a slight tweaking in design allows for the crates to accommodate gastronorms.
In fact our gastronorm crates not only work incredibly well as displays in buffets but they can also be stacked which effectively turns them into rustic gastronorm catering trolleys. These have been particularly popular with BBQs
Displays & partitions
Stacking our crates on their sides allows you to build a wooden crate wall. This can be used as a further display option making use of wall space. sitting on mobile base plates means they can be easily manoeuvred around.


Mobility
All our crates can have casters added to them for mobility. This makes for easily manoeuvred storage or merchandising displays or even a great children's room tidy.
What should I consider for a Wooden Crate?
With all the possible options how on earth can you make a decision. Below we've outline a few ideas to help
What do I need them for? With the variety of functions this helps to narrow the field first. Storage, display, seating or catering?
Do I need to label contents? Maybe blackboard crates are the way forward.
What is my branding and style? Do you need specific colours to match your brand or are you just looking for a an uplifting jolly colour?
Are you looking raise your brand profile? Stencilling the logo maybe just the job.
How much space have you available? Can you only manage a small wooden crate or are crate walls more of an option?
Are you going to want to move them frequently? Casters are surely a must have!
Will you be stacking them? If so we would recommend the stability options for a safer stack.
Wooden Crates
A multitude of uses
Ligneus
Serving all your needs