Ligneus Crates Explained
Our crates are incredibly versatile from colour and sizing to handling and customisation. You may never have thought it before but crates aren't just convenient boxes.They can be anything from point of sale display and storage solutions to kitchen tidies and beautiful display stands. Here we try have the different characteristics of our crates explained.
There are so many options it can be quite confusing. Here we try and help you understand some of the basic characteristics of our crates. Roll over and click on the different characteristics in the image below for more information.
All our crates can be altered to bespoke requirements so please do contact us if you have needs that our standard options don't cater for.

Crates Explained
Select an option from the image opposite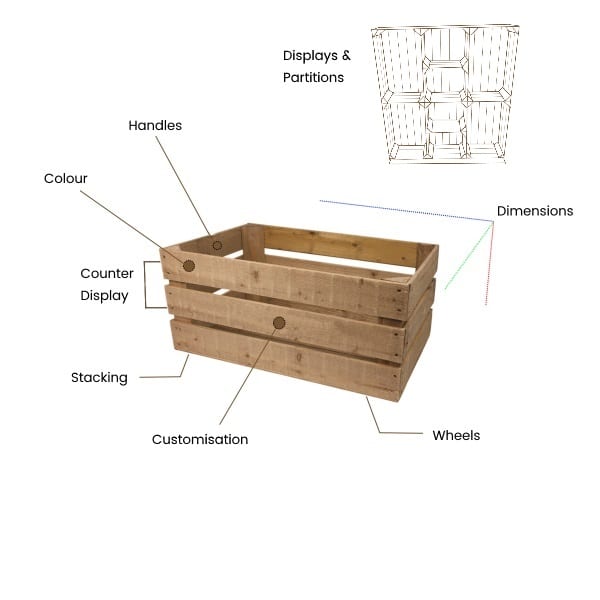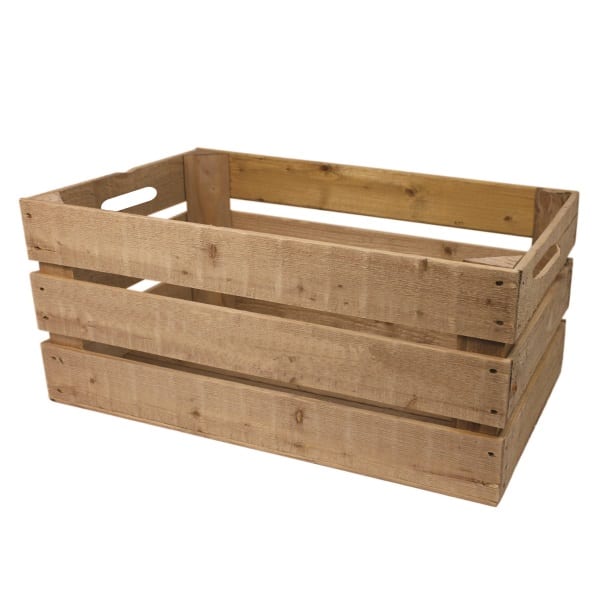 Our crates are easy enough to handle however if you are shifting them around a lot then handles are an option to make things easy
Our standard crates come in 3 sizes:
(Length x Width x Height)
Small - 300 x 370 x 250mm
Medium - 500 x 370 x 250mm
Large - 600 x 370 x 250mm
We also have shallow crates where space is restricted such as on shelves and these are available in 3 sizes too:
(Length x Width x Height)
Small - 300 x 370 x 165mm
Medium - 500 x 370 x 165mm
Large - 600 x 370 x 165mm
bespoke sizing is available - contact us for more information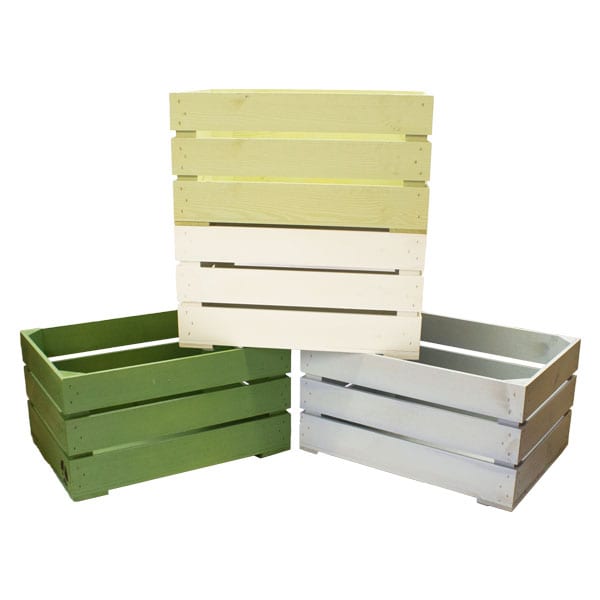 Either used as a shop and goods display or at home as beautiful storage our crates come a wide selection of colours.
These include the ever popular Rustic Crate as seen in the main image, the Painted Crate as seen in the image above and the best selling Colour Burst Crate which is rustic on the outside and literally bursting with colour on the inside.
Bespoke colours are available contact us for more information.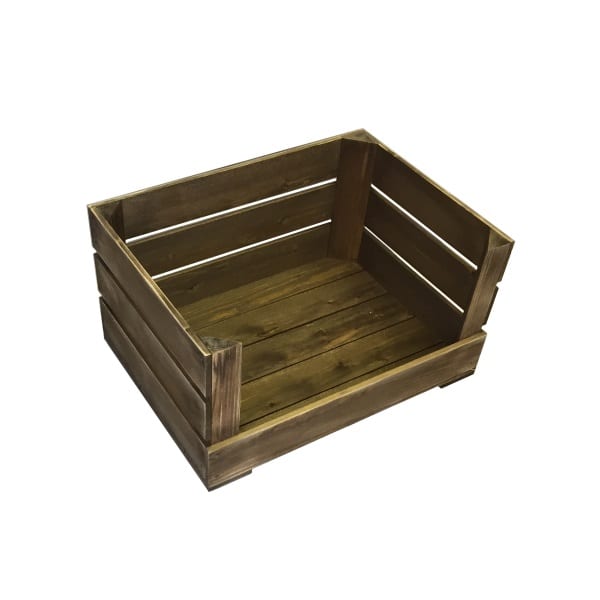 Our crates are great for storage and also for display. By removing the top two front slats the crate becomes a superb counter display for merchandise as with the Drop Front Rustic Crate as shown in the image above.
These can also be stacked and made mobile with casters. This is beautifully demonstrated with our drop front stacker system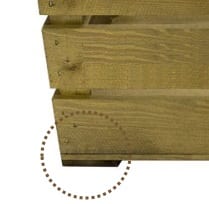 Our standard crates are fine to be stacked. However if you are regularly stacking 3 or more high we recommend interlocking stacking feet, as seen in the image detail above.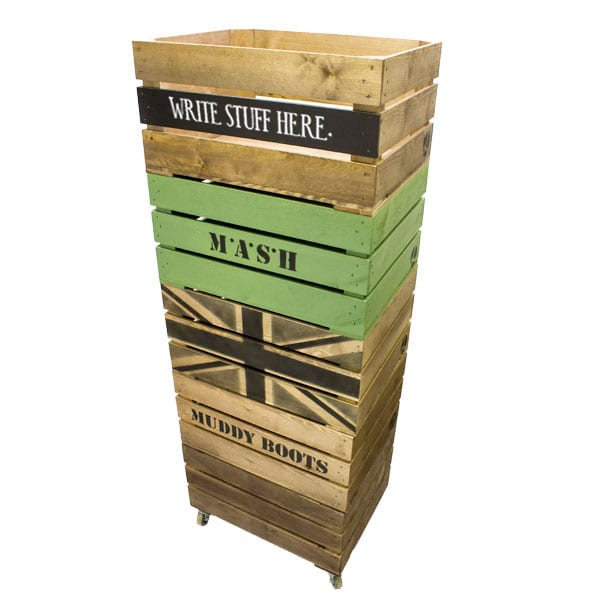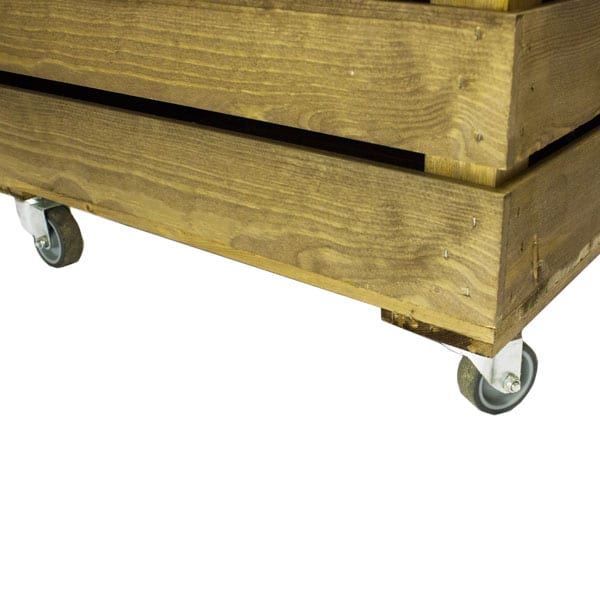 It is often very handy to have your crates mobile - especially if you're stacking them or using them as mobile merchandising displays.
We offer a set of 4 casters as seen in the image detail above.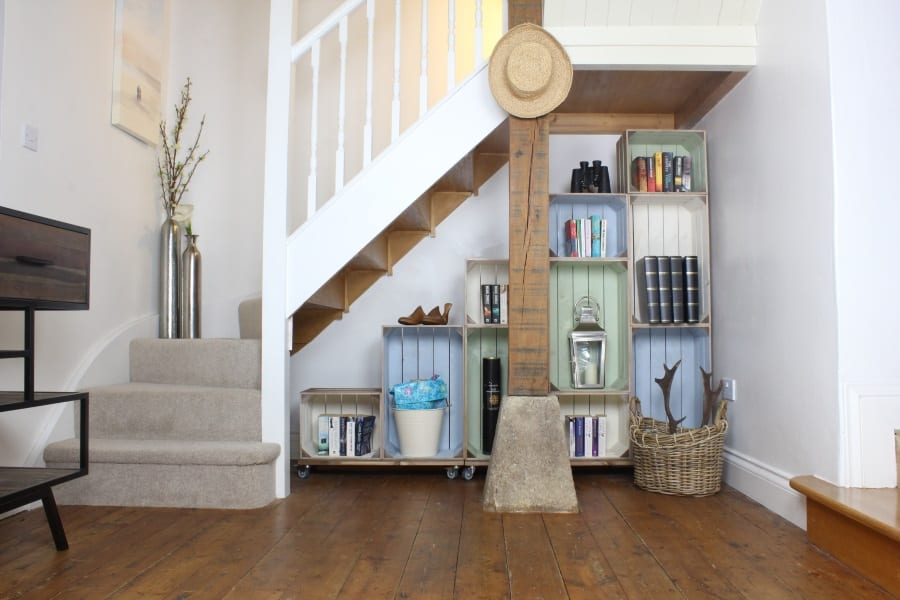 These crates are design to work on their sides and can be stacked in a modular fashion to create the most beautifully practical display walls and partitions. check our our whole range of display walls here