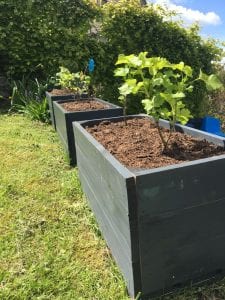 As we all hope for that glorious summer and to start planting outside, it is worth considering our wooden planters. Not only are they attractive in a range of colours and finishes but can be used as a natural boundary in your garden. They have a solid wood design built to last but are also easily moved.
We also have wooden plant pot stands with heavy duty casters. A heavy duty plant pot caddy certainly takes away the back breaking element. Simply point and push your plants into their new position! A plant pot stand on wheels is also known as a plant pot dolly.
Ligneus Planters and Stands help you redesign your garden as you see fit
What is so good, is that you can redesign your garden/ patio on a daily basis or create an optimum entertaining area. They become an edge or fence to a large patio for a BBQ party. They can be arranged to create a more intimate area to share afternoon tea or a glass of wine! Or, if you are using your patio for something else entirely or cleaning, you can simply wheel your planters away.
Ligneus wooden planters have a robust design for longevity. You have the option of two materials, one with a lifespan of 10 years and ThermoWood which can last up to 30 years. We offer various sizes in rustic or painted finishes so you can be sure of something to match your style.