LIGNEUS
Ligneus - a family business
Ligneus is a family-run wood manufacturing business born out of the idea that beautiful timeless products can be unique and tailored and not cost the Earth. Situated in the heart of the rural Cotswolds we gain a great deal of inspiration from the rustic natural beauty around us.
Our range of wood products is continually expanding through carefully developed lines and designs. We also create bespoke, branded and engraved products to individual customers specific requirements. Please see our Bespoke Branded Products section for more information.
Social responsibility
All our wood is from sustainable sources. In today's world we must all take a care for our wider environment as well as that immediately around us.
Everything we do has an environmental consideration, from where we source our wood to how we heat our warehouse. We take our corporate and social responsibilities very seriously so you can be confident of the ethical nature of our products.
HISTORY AROUND THE PORT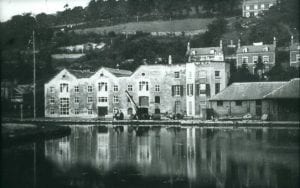 Ligneus has its roots embedded in the historical Brimscombe Port, which, in its heyday, was home to the largest exportation of cloth in the south-west. It flourished throughout the industrial revolution, eventually resulting in the building of Brimscombe Railway Station. The Port was a popular junction for transporting goods far and wide, often to trade overseas, and its growing popularity created an opportunity for boat craftsmen and engineers to set up shop locally.
The boats made at the Port became known for their robust and reliable build, which readied them for the rough Atlantic sea. One boat in particular commanded a Hollywood status, appearing in the 1951 John Huston film 'The African Queen'. Ligneus sits on this goldmine of bustling history in what was formerly the Boat Shed and we are very proud to be a part of the Port's developing future. Currently there are plans to restore both Brimscombe Port and the local canal network back to their near former glory, creating an exciting time for trades in the area.
A SELECTION OF OUR FRIENDS AND PARTNERS

http://www.malthouseemporium.com/
Malt House Emporium holds a large collection of high-end furniture and home goods of the rustic and vintage kind. We are proud to have our Rustic Farmhouse Tables and Coffee Tables, alongside some of our Rustic Oak Serving Boards available for purchase in the "SHED" section on the ground floor in this prestigious Cotswold shop.
Rush Skatepark in the heart of the Cotswolds, is one of the largest indoor skateparks in the world and plays host to a number of major worldwide skate and scooter related events every year. The park sits alongside Ligneus down at Brimscombe Port and now adorns a large selection of our Rustic Farmhouse Tables and Coffee Tables in their award winning canteen, lounge and outside eating areas. Even if you only go for one of their fabulous Barista coffees or an all day breakfast just get your skates on and have a look!
Superdry is one of the largest clothing brands in the world. Ligneus are proud to have been selected to provide 4 very large (4 metre long)  Rustic Outdoor Farmhouse Tables for the outside eating area at their head offices in Cheltenham.
Hillcrest Cottages is a local holiday cottage business. The cottages boast "absolutely stunning" views down the Golden Valley and also play home to some of our stunning rustic furniture, if you don't mind us saying so!. A big thanks to Tricia too for allowing us to use one of the cottages as the venue for one our recent photo shoots. We couldn't dream of a more idyllic setting for a weekend getaway.