Wooden Dowels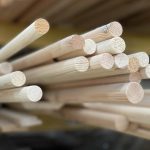 Typically wooden dowels are used for reinforcing woodwork, they also have many other applications. From wine racks and rungs to screw plugs the wooden dowel is incredibly versatile. We use specialist doweling machines to ensure dowels are perfectly round every time. They are then sanded and their diameters are accurate to a tolerance of +/- 0.2mm.
If you have specific requirements do get in touch.
No products were found matching your selection.