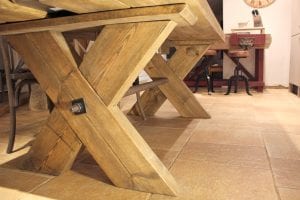 How long will a farmhouse table last?
Our farmhouse tables are built to last a lifetime. In our Cotswold Workshops, where we are surrounded by some of the most stunning countryside, we combine great designs and artisans. This combination produces classic pieces to stand the test of time even with the everyday bustle of family life.
What are farmhouse tables made of?
Our Farmhouse tables are made from the finest sustainable FSC Redwood. We put a great deal of emphasis on our ecological credentials so can you can be assure of yours. You can read our sustainability statement here.
What exactly is the Farmhouse Table Style?
Our work is inspired by the countryside that surrounds us. Cotswold craftsmen have a unique ability to produce beautiful and contemporary pieces. all along the farmhouse style has its footing in the imperfections of the wood. A weathered finish offers each table a unique character and a perfectly imperfectly endearing quality. The chunky design and warmth of the wood provides a homely dependable feel.
Often referred to as shabby chic farmhouse they sit just as comfortably in a contemporary urban setting as they do in a classic farmhouse kitchen.
Are Farmhouse Tables really still in style?
Of course the short answer is yes, but don't take our word for it we take our lead from our customers. It should not be surprising really. Centuries old styles that have already stood the test of time prove just as popular today as they were 100s of years ago.