Showing 1–40 of 51 results
What is Pikler? What is a Pikler Triangle?
Emmi Pikler was a pediatrician and child educator. She was born in 1902 and spent her early childhood in Vienna.
Pikler studied Medicine in Vienna, and received her medical degree in 1927. Her pediatric training was at the Vienna University Children's Hospital.
Emmi and her husband decided together with the birth of their first child to allow the child freedom of movement. That they should await her development patiently. The goal being that of promoting her healthy development. Emmi Pikler saw the importance of healthy attachments for the overall well-being of the child. This would be an integrated and comprehensive approach to physical and emotional development.
The Pikler triangle and its range form the physical component to a child's education. They stimulate movement and encourage games and role play leading to happy children.
What Age is a Pikler Triangle for?
In the normal course of events the Pikler triangle and range can be used for children as young as 6 months to approx 4-5 years old. However the Ligneus PLAY designs have extended this range from birth to 99yrs plus.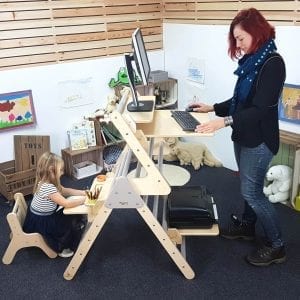 From Birth to 99yrs? Really?
Yes! The wooden rungs can even be used to attach play bar accessories for sensory development. Essentially it is an all-in-one sensory and motor development 'toy' from 0-5 years.
The Junior size options allow for older children to use it and  the desk extenders can create a working desk. It will support a monitor, keyboard, printer and more.
Pikler Inspired Assembly Guides
• Climbing Triangles:
Download the Nursery Climbing triangle Assembly Guide here
Download the Junior Climbing triangle Assembly Guide here
• Climbing Arches:
Download the Nursery Climbing Arch Assembly Guide here
Download the Junior Climbing Arch Assembly Guide here
Pikler Inspired Safety Statement
Download the Safety Statement here