What are Apple Trays?
Traditionally apple trays came about as a great way for storing apples through harvest. The slatted arrangement allowed for air flow helping to keep the fruit fresh and dry.
…so are they just for apples?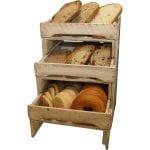 In short no! The traditional slatted designs are quite eye catching and lend themselves very well to display stands. Apple tray by name but not necessarily by function
Made from sustainable timber, the trays are both attractive and durable. A range of sizes allow you to build bespoke displays to suit your merchandise.