How Best to use Miniature Wooden Display Pallets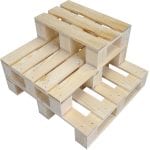 Miniature pallet risers work perfectly in a food environment. You can build your own "set" design for great eye catching displays. They can be stacked to created "layered" sets and also the different sizes provide many options for stacking these quirky risers.
By creating different levels of height you can increase the prominence and effectiveness of your displays.
Food Safe Pallets
We manufacture our pallet risers out of FSC Redwood and use food grade finishes so you can be certain of their environmental and healthy credentials