Showing 1–40 of 85 results
A multitude of uses
From coffee, Sandwich and Tea Trays to breakfast, lunch and dinner trays a catering serving tray is indispensable. Here, you can find a great selection of food service trays as well as room service trays. We design our commercial serving trays for premium functionality and strength.
What types of tray are there?
We manufacture a wide range of trays appealing to vastly differing requirements. From premium oak trays to more rustic redwood trays and the c crisp clean lines of plywood trays we have a solution for you.
There are ottoman trays, butler trays, tea trays and cocktail trays. eating trays and drinks trays there scope is almost endless.
Our serving ottoman style trays are available in a range of stunning colours and materials, and will add style and class to your service.
How to choose a tray
There are a number of considerations when choosing a tray. Firstly the material it is made from. Oak often lends itself to a more luxury end of the market where as ply wood and redwood could be considered more utilitarian.
Frequent use may also help determine materials. With oak and ply being often considered more robust.
The use it self of course is fundamental. Food table service trays might have lower sides whereas a drinks service tray may benefit from raise sides to secure glasses better.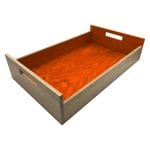 Finishing is also a significant consideration. A beautifully lacquer oak butler tray would suit a luxury high end environment however a colourfully painted or even a colour burst tray may be more appropriate as a cocktail, drinks or party tray.
To handle or not to handle? That is the question. An integrated handle can offer far more control for busy and bustling environment.