Laser Cutting & Engraving on Wood
To offer a truly bespoke and personalised service Ligneus has state of the art laser equipment. This allows us to cut, engrave lines or engrave images. This means we can recreate your companies brand precisely or truly personalise your product. We offer our laser services across all our products where practical. Combined with our bespoke design service we can create unique products to meet your requirements.
Laser Cutting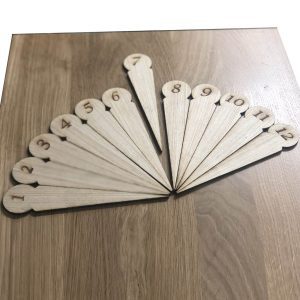 We use laser cutting to create wonderful shapes or cutouts in objects. As well as bespoke designs cutting can add another dimension to products.
We use vector artwork like ai, dxf, eps or SVG files.
This function also allows us to create wonderful stencils for our spraying services.
Line/ Vector Engraving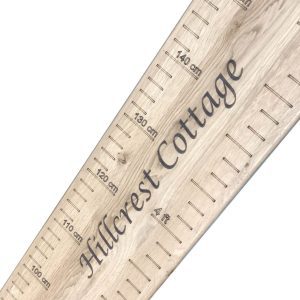 Line engraving or vector engraving, is very similar to laser cutting. By adjusting speed and power levels we simply mark rather than cut through. This is demonstrated by the scale and numbers in the image above. It too requires vector files. (NB Hillcrest Cottage is a scan - see image engraving)
From the simplest of line drawings to complex artwork this can offer great results.
Image Engraving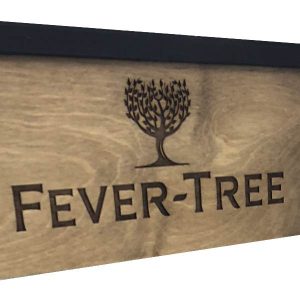 The lasers allow us to do complex images scans, or rastering as they are known. We can use vector files but more commonly use png and jpg files. You can send us your files in any of these formats, ideally in black and white and 300dpi+, and we can do the rest.
From faces and pets to corporate logos we can cater for it.

Engraving on different materials and finishes
We engrave on the many different types of wood. These all produce a range of effects from light to dark, smooth to ribbed from the wood grain. We can advise on which would be the best material for your application. Engraving on painted products also produces great results as seen in these impulse bins.
We also use our lasers to cut perspex where the material is used for see through applications on display products. The laser cutting produces very fine edging where cutting with a blade can often lead to rougher finishes. Perspex also engraves very well for images and brand logos leaving a clear opaque image.