Branded Products
Ligneus Workshops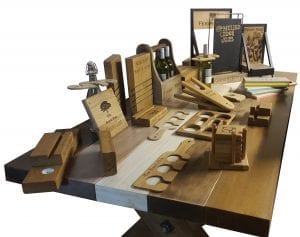 Ligneus' warehouse and workshop contains state of the art machinery and so enables us to produce the best quality products and branding for our clients. At Ligneus the staff are experienced craftsmen so our clients always get satisfaction for their ideas. All of our bespoke wooden branded products are hand-made in the Cotswolds so have an emphasis on high-quality designs and workmanship.
Endless possibilities
Our oak product range is suitable for domestic and commercial use. It includes everything from home and garden products to point of sale and corporate branding. From rustic colour burst crates at point of sale to bespoke wooden restaurant steak boards, our craftmanship has endless possibilities.
Most of our great range of products have optional personlisation but we are always keen to go one step further. Our chunky wooden furniture has a rustic feel with a modern contemporary twist. Our designs are such that we build our products to stand the test of time and changes in fashion and tastes. If you have other ideas for a product we have or even a product we have yet to list, please do get in contact. We always get excited about developing new ideas.
Who we work with
Working with end users and design agencies, wholesalers and retailers we focus on crafting premium wooden products to enhance brands. We are always looking to add quality to functional items. We are also very environmentally and socially conscious so our products complement our clients' CSR. Read more about LIgneus and our social responsibility here.
Our end users are people just like you! Your weddings, your birthdays, your christenings, your new home, your special occasions! We can help make them unique and memorable. Our experience creates versatility meaning we can provide you a solution.
Contact us now if you would like to discuss your ideas
Call us on 01453 884600
or