Is Nilaqua Alcohol Free Sanitiser effective against Coronoviruses and COVID19?
Yes! In fact it is one of the fastest acting sanitisers tested to be effective in under 60seconds.
……how fast?
You heard it right – it kills COVID19 under 60seconds. Many sanitisers claim to be effective within 5minutes. A lot can happen in that time and Nilaqua can help reduce that time and consequently transmission rates.
I always thought alcohol sanitisers were the best!
It is a misconception that you need alcohol as an active ingredient. Alcohol can sanitise but Nilaqua also offers ongoing protection as well as being a great coronavirus sanitiser.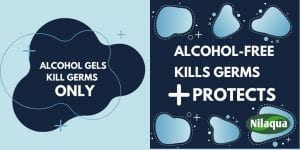 Can you use Nilaqua in Foggers?
Yes you can use Nilaqua in foggers. It is ready to use and doesn't need any dilution.
Follow this link for the Recommended fogging procedure for Nilaqua Sanitiser
Nilaqua is the leading all rounded alcohol free sanitiser and surface cleaner
Nilaqua's outstanding Alcohol Free sanitiser is used and recommended by the NHS due to its virucidal properties. It kills up to 99.9999% of germs. The extensive list includes the dreaded Norovirus, C-Diff and all Coronaviruses. Nilaqua uses advanced barrier control providing up to 6 hours protection with the hand sanitiser and up to 30days with the surface spray. It is tested to EN1500 standards.
Nilaqua Sanitiser lasts considerably longer than gels consequently fewer pumps are needed.
Nilaqua non alcoholic sanitiser is non-toxic, non-skin drying and non-flammable. It is Halal compliant and vegan friendly / cruelty free.
Key points of the Nilaqua anti viral sanitiser:
Alcohol (and Paraben) FREE
Tested against all enveloped viruses including Coronoviruses and SARS-CoV-2
99.999% effective against Germs and bacteria
Effective in under 60 seconds
6hr protection with hand sanitiser (up to 30days with surface spray)
NHS Approved
Non Toxic, Non Irritating
Vegan Friendly
You can read here in more detail how this alcohol free sanitiser has no rivals