Gastronorm Crate System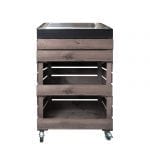 Our Gastronorm Crate System has evolved from our ever most popular rustic brown crates. Due to increasing demand from the catering sector Ligneus designed a crate that could accommodate a standard GN 1/1 gastronorm. Using the existing interlocking stacker option of the rustic crate and adding casters the Rustic Crate Gastronorm Trolley was born.
The gastronorm crate system has been used both as a floor standing arrangement in table service and also as a counter top / table top arrangement in wedding receptions and buffets. Its rustic look is very appealing and complements a broad range of designs and styles. The nature of the system allows for plenty of storage for additional equipment and supplies – the Gastronorm Trolley is a great example of this.
The gastronorm crate can accommodate 5 sizes of gastronorm:
GN 1/1
GN 1/3
GN 1/2
GN 2/3
GN 2/4
Options for gastronorm sizes and arrangements are as follows:

The interest of this modular system pushed us on to develop it further and expand the choice and function of the crates available. Currently the gastronorm components are the:
All these options are encapsulated in the Rustic Gastronorm Crates.
Its popularity is due to both its versatility and attractive design. Watch this space as we're expanding the range to meet growing demand.