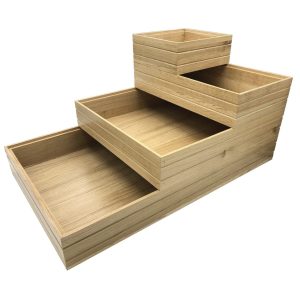 Hospitality Trolley System
The Ligneus Hospitality Trolley is built for robust everyday use and with exceptional design for high end corporate hospitality and catering. The system is made up of a range of high end executive service catering trolleys and compatible oak stacker box trays.
Each Oak box is designed to sit within the recess on each trolley tier and on top of each other. This offers greater stable capacity whilst manoeuvring. Each box is designed to a high standard and can be used as stand alone display and presentation boxes. This is very useful for setting out in catering and hospitality events.
The Ligneus Modular Trolley systems offers interchangeable and stackable components providing versatility to tailor your display and allows for efficient replenishment between front and back-of-house.
The Hospitality Trolley system is made up up of the Burford Range and the Bourton Range, it includes the following:
The Burford Trolley range
The Burford Trolley is a classic design with timeless oak supports. It is available in a Lacquered or black oak finish. It is also available with an extended drop leaf version for greater capacity.
The Bourton Trolley range
The Bourton Trolley is a contemporary design with sleek polished stainless steel supports offering a cutting edge look to any boardroom or restaurant. It is available in a Lacquered or black oak finish.
Ribbed Lacquered Oak Box Trays
The trolley boxes are also available in either lacquered or black oak to complement or contrast your trolley. They come in 2 sizes and offer even greater functionality to your trolley. The boxes are designed to stack securely upon each other and into each trolley tier. Each trolley tier has rebates which fit the boxes perfectly.
Ribbed Black Oak Box Trays
Lacquered Oak Tea & Coffee Stations
Gastronorm Oak Risers
These oak gastronorm risers fit in their associated boxes. They are also beautiful stand alone gastronorm risers. These are ideal for buffets.
Gastronorm Black Oak Risers